Welcome to
Saline Co., Illinois USGenWeb

Established in 1847 from Gallatin County.
Raleigh served as the first county seat before Harrisburg became the current seat of government.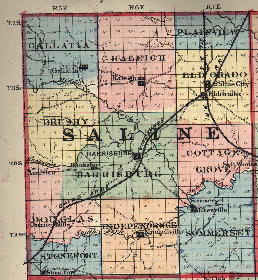 Click on the image to see a larger map
Welcome! My name is Debbie Vietzke and I am the coordinator for the Saline County ILGenWeb site. I am taking over the reigns from Jon Musgrave who will be focusing his other Illinois history projects. Cindy Pegg started this page in 1997 which has developed into a whole site specializing in beautiful Saline County, Illinois. This site is a part of the Illinois Genweb Project which is all a part of the USGenweb Project. The sole purpose of the US Genweb project is to provide as much FREE access to on-line information as possible. If you should have any information that would help others in their research, please consider donating it to the US Genweb project.
Of the 102 counties in Illinois, Saline was the 99th to be formed. Established in 1847 from Gallatin County, Saline got its name from the Saline River. The making of salt from the Salines was a major part of industry for the region. Favorable conditions in Saline County attracted indians to the area. Two tribes were known inhabitants, the Shawnee and the Piankashaw. Just when the white man moved into the area is not known for sure. The first land entry was made in 1814 by John Wren and Hankerson Rude. There were four principal settlements which are considered the first farms opened to cultivation. They belonged to Hankerson Rude, Hampton Pankey, William Crawford and Francis Jordan. Source: Saline County, A Century of History 1847-1947: SCGS


---
Saline County Illinois has a mailing list for those researching their Saline County Ancestors. To subscribe to the list mode, send an e-mail to ILSALINE-L-request@rootsweb.com or to subscribe in digest mode, send your message to ILSALINE-D-request@rootsweb.com. Put only the word "subscribe"
without the quotes in the message body. We welcome anyone who has an interest in Saline County to join in the mailing list!
---

The Saline County Genealogical Society meets the third Sunday of every month at 2 p.m. It's research library is open to the public from 8 a.m. to noon Monday through Friday on the ground floor of Harrisburg's City Hall at 110 E Locust St. Membership dues are $15 a year. If you would like to join the society, please fill out the application and mail to Saline County Genealogical Society, PO Box 4, Harrisburg, IL 62946.
---
Articles and Letters
Biographical Sketches
Books
Cemeteries
Individual Cemetery Transcriptions
See also the cemetery books published by the Saline County Genealogical Society.
Census and other Directories
Citizenship and Naturalization
Criminal
Land Records
Military
Photographs
Queries and Researchers
Vital Records
Births
Deaths
Marriages
Divorces
Pensions and Retirements
Various Records
Southern Illinois Genealogy Homepages with Saline County ancestors...


Neighboring ILGenWeb pages
---
Saline County Courthouse
10 E. Poplar Street
Harrisburg, Illinois 62946
618-253-8197
Public Libraries:
Eldorado Memorial Library
Harrisburg Public Library (formerly the Mitchell-Carnegie Library)

Return to the Illinois Genweb Project
Return to the US Genweb Project