Do you recognize anyone?
Carrier Mills Corner Band, c. 1905, submitted by Lynda Miller
The first picture I am sending is the Carrier Mills Corner Band. It was taken sometime around 1905. They used to ride the street car that went from Carrier Mills to Eldorado. The middle row, 3rd person from the left is Robert Everett Evans (holding trumpet). He is the son of James Lawrence Evans and Catherine Stiff Evans. I would love to know any others if they can be identified. — Lynda.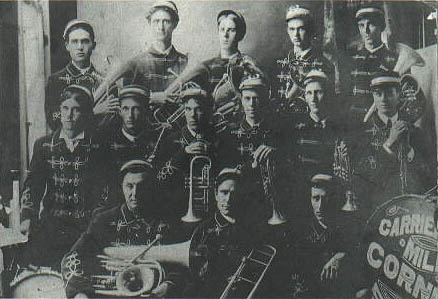 Return to Saline County Photos
Return to Saline County ILGenweb main page
You are the 1166 visitor to this page